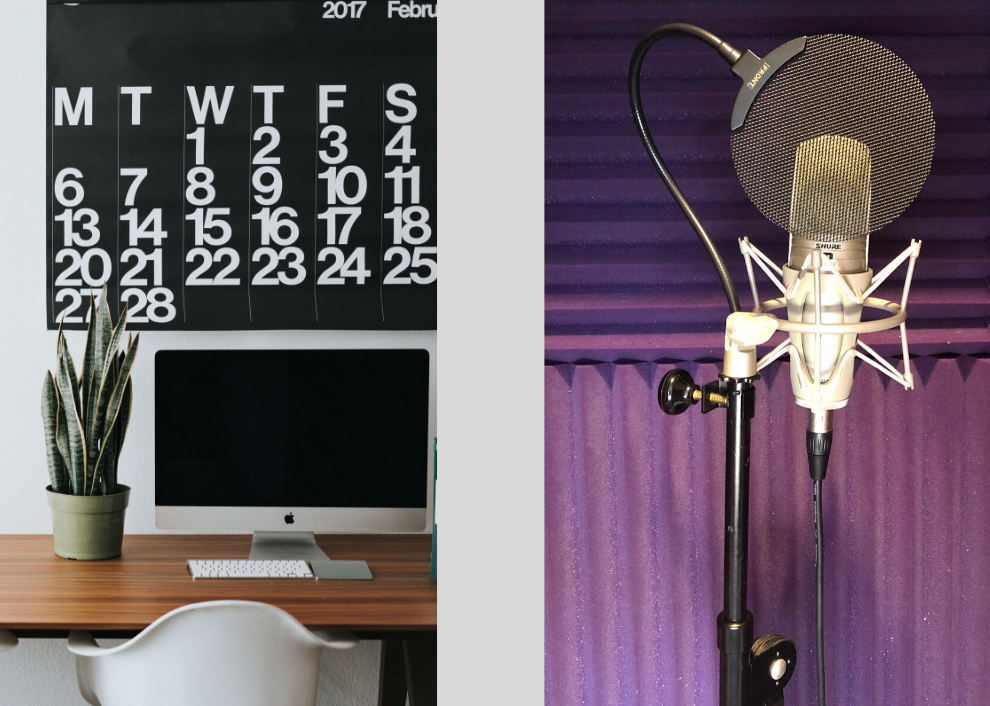 This is the first installment in my new blog series on how to find a professional voice over actor for your marketing or advertising project.
When the global pandemic caused a shutdown of most businesses, many creative teams were left wondering how to continue working on their video projects and get professional quality voice talent. After reaching out to my clients and other VO pals to see how they were doing, I learned that some of the creative directors who were used to using a casting office, going through an agency, or only recording at a public studio were struggling a bit to come up with alternate plans.
Happily, there is a solution. And one that can leave your marketing team better prepared for the future!
Have an in house roster of "Go To" Voice Actors with their own broadcast quality studios and remote direction options.
While many Voice talents do rely on agencies and public recording facilities, there are plenty of professional Voice Over actors who deal directly with their clients and record in their own studio. To be clear, I am not talking about someone who just decided that since they can "do voices" or have a smooth baritone, they should use their shiny new phone to make money recording in their bathroom. You know, because they always sound so good singing in the shower…
Hey, I love a good show tune as much as the next girl, but the reverb that often makes your singing sound better can totally kill the sound of a voiceover. You want someone who has not only trained for a few years in Voice Acting (more in that in a bit) but also has a professional home studio that is treated for noise and acoustics.
And since you probably won't be at their studio when they record, you also want someone who has remote direction capabilities like a phone patch, Skype, Zoom, or something similar. That means you can listen while they record; and give them notes, change up the direction, ask for alternates on the spot, and make sure the read is exactly the way you want it – the FIRST time. Saves everyone time and money. And makes for a happier end client!
It should go without saying, but just to be safe, make sure that the voice actor will have you on headphones so your side of the conversation (and any background noise) won't bleed through to the recording. Again, if someone isn't really a pro, you never know. Plus, constantly muting and unmuting yourself is a hassle and easy to forget.
I will also mention that Source Connect and old fashioned ISDN lines are other options for directing talent in the booth, but those require another separate studio to do the actual recording, so you would need to set up an outside engineer with their own studio too. If you want to keep this simple, look for a Voice actor who can deliver high quality dry narration with minor editing to remove mistakes, breaths, and mouth noise. You will have an editor put it all to your video, white board, film or animation with the background music (if any) later anyway, but it helps to start with a "clean" file. Again, saves time and money.
Ok, great! But how do you find professional reliable Voice Actors to see if they are right for your projects?
You can always do an online search, which will give you a slew of paid advertisements and high SEO ranking companies and players. If you are very specific and have the time to wade through it all, you'll no doubt find a few good possibilities and can visit their websites.
There are also many online VO casting sites known in the industry as "Pay to Play" businesses since the voice talents pay an annual fee to have access to the casting notices and then can submit on any of them. As you can imagine, this open casting situation creates a bit of a free for all, with a talent pool ranging from absolute beginners to still the occasional seasoned pro, who could all respond to your job posting. You could easily wind up with hundreds of responses to go through. The P2P sites vary in specific structure, with some taking an extra fee on top of the voice actor's rate (so the money you pay doesn't all go to the talent) and some charging you directly to post the casting. But you could check them out and see if it's worth it for your situation. Some also offer to be a pseudo casting agent, doing the legwork for you – for a fee of course – and choosing which of their subscribers (often the ones who pay the highest fees) to offer the audition to.
Or you could try LinkedIn, which tends to draw the more business minded voice pros and should give you a quick overview of each potential candidate's skills, voice over examples, and client examples. As a bonus, it can be a one stop shop for doing research since you should be able to see exactly what experience, studio setup, and sound that person has all without navigating other websites or paying a fee. You can run across VO pros organically when they may comment on a marketing or advertising post, or you can always do a specific search for a possible talent pool. Enter some keywords in the search bar and then narrow it down by using the option fields. Good ones to try: Voice Over, Voiceover, Actor, Actress, Studio, Direction, Booth, Brand, Video, and any attitude terms you may want for your specific project (warm, friendly, conversational, gravitas, empathetic, humorous, etc.) You will likely get a LOT of options, so experiment with being more specific and maybe focus on location too, if you only want to work with someone in your own country or time zone for example.
So, once you've got a list of people how do you whittle them down?
Look at their job title and business name. Voice Over should be number one or possibly number two if they are also an on camera actor or Spokesperson. They should be FULL TIME and not doing it as a side hustle.
Look at their experience and training. Like any other job you would hire someone for, more experience and training is better. At least a few years. They should know how to take direction, make subtle adjustments, and even give the copy a spin that you didn't think of before as an extra option. And this should be obvious, but you would be surprised how few Voice actors it applies to….they should be fantastic at reading something the very first time. Cold reading is a valuable skill!
Look at their studio specs. Even if the equipment names don't mean anything to you, there should be a real microphone and some mention of sound proofing, acoustic treatment, Auralex foam, etc. Plus, you can probably figure out if they just decided to use some free programs and hardware not really meant for professional audio recording, or ask an engineer about what is listed.
Look at their client list. Don't worry if there are competitors listed. There may not be an exclusivity problem, or the project could be done running now. You want to see that they have at least a few known businesses that trusted them with their image.
Listen (or watch!) some of their VO examples. Do you like what you hear? Do they have a good range or does everything sound alike? Can they act? Or is everything the same attitude and emotion? Can you imagine their voice with your script? If it's not a perfect match but you like them, do you think they could make an adjustment to match what you hear in your head?
Are they someone you want to work with? Whatever your standards are, do they meet them? Do they seem reliable? Do they have good reviews? Do you like their personality? It is much more pleasant to work with someone you like!
Send them a message, email or connection request.
Then briefly outline your project, budget range for the VO and timeline. Ask if they would like to audition. OR, if it is just to get a roster of in house talent for future projects, state that and give an overview of your usual jobs and budget range. Ask for the talent to respond with all of their details for how they work: Turnaround time, Payment options, Pickup sessions for changes or re-reads, Directed sessions, etc. And still ask for an audition read with a short script you give them. You want to know what their current recording quality is like. Can they sound as good as their examples? Are there a bunch of mouth noises that will drive your editor crazy? Is there a dog, or lawnmower in the background?
Decide who you like! For a specific job, it's good to have a couple of backup choices in case the first one can't meet the deadline, has a higher rate for that particular project, or gets sick. For a roster, it's great to have a variety of sounds, ages and styles. Depending on how many marketing projects you do that require voiceover, you could have anywhere from 4 to 40 people!
Now, with a few people on your personal list of voice talent, you will be ready to tackle that new rush job or any other marketing project that comes your way!
A final thought: The BRAND VOICE. If you want to keep your company's brand image consistent across all media, you may want to consider having one person voice all of your brand videos, social media posts, commercials, explainer videos, product demos, tutorials and other company messaging – including even your phone messaging!
I hope this provided a good overview of how to go about finding a great voiceover actor or actress to record the VO and bring your scripts to life! Please feel free to message me with any questions, and look for the second installment in this series, "Directing Voice Actors", coming soon.