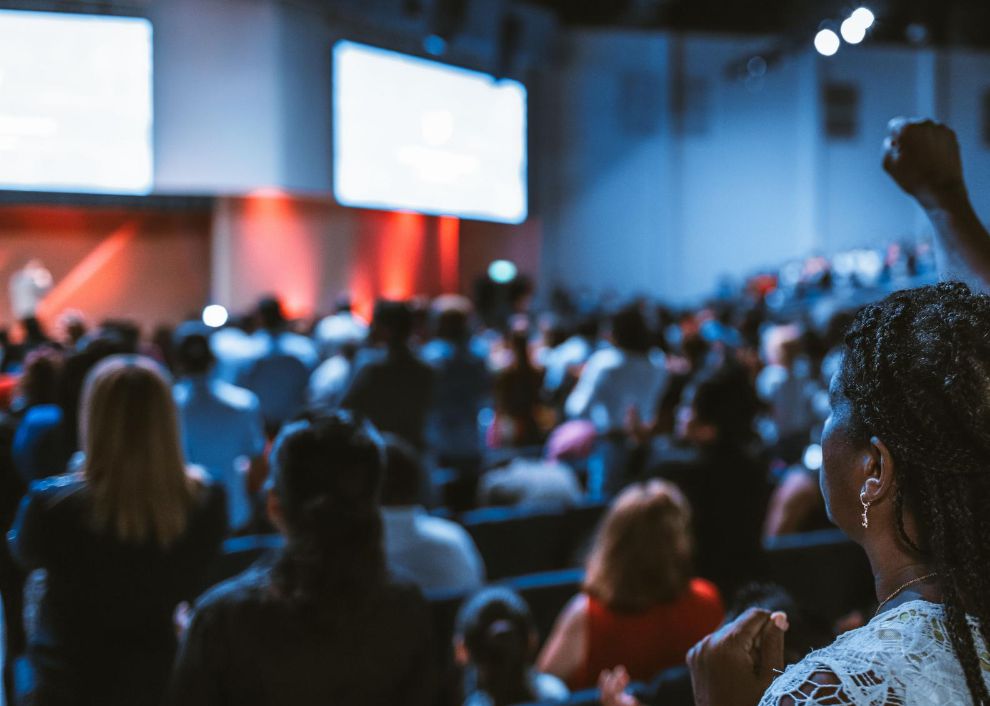 Covid 19 means that conferences and conventions are going to be online for the foreseeable future. Here's how to use Voice Over to make the experience more approachable for attendees.
VOG – First, help make everyone who is logging on to the event feel welcome and informed with the traditional Voice of God announcements that you would normally have at a live event. These can include the usual welcome message and countdown to the event kickoff – the "Please take your seats. Our show is about to begin" type of announcements, but also a message about how to mute and unmute the microphone/camera if needed, raise their hand, ask questions, chat, and fix or get help with any technical problems during the event. These may seem like things everyone should know these days with all the online meetings, but you'd be surprised at the number of people who still appreciate the information at the start of a virtual event!
VIRTUAL MC – Any event always begins with a friendly face and voice of the organization welcoming attendees, so you shouldn't skip this important part of the online version. This VO can give an overview of the schedule, highlight any special presentations, note any changes to the program, tell audience members how to arrange and conduct any private meetings with other attendees, talk about networking opportunities during the event, give vendor information, inform everyone about scheduled breaks, and introduce all the speakers and presentations.
VIDEO NARRATION – Being online means it's more important than ever to have an engaging and powerful video presentation, and a big part of keeping people's attention is a professional voice over. As we all know, there are infinitely more distractions these days, especially when working from home, so a charismatic Voice Actor that embodies your company's brand image is key!
SPONSOR MENTIONS – However you decide to showcase your sponsors, they will appreciate having a professional VO highlighting their services or products. Whether it's a sponsor montage video, or simply a detailed thank you list, it will make their contribution more noticeable.
PRE-SHOW PROMOS – You have to get the word out and build some awareness to get your attendees to sign up right? A great sizzle reel with an exciting Voice Over can encourage those people to register who may be on the fence about doing something that's "just online."
FOLLOW UP VIDEOS – When sending a thank you email, a video message after the event is a terrific idea to keep attendees engaged with your brand, get feedback, answer questions, and encourage them to take that next step. And again, a charismatic voice over helps to grab their attention so that they actually listen to your message!
Just because our meetings have to be virtual, doesn't mean they can't still be exciting and informative. The key is to have a warm, human touch, in a touchless fashion, with a Voice Over that conveys your brand image and ideals.
I hope this has helped to make organizing or attending a virtual conference less daunting. Please feel free to reach out with any questions, or leave me a comment and let me know how this is working for you!